2

Meet their weekend girl friends!
Posted by
raisa
, 21 February 2013 · 4,077 views
Since I didn't find anything particular to talk about, I decided to just take any magazine from February and post an article. I choose Spec Magazine 1974 that has an article with the title"J5 ~~Meet their weekend girl friends!". All pictures that had Michael in them have been posted
here in our gallery
. Those pictures also already have the original caption that came with the pictures. (Some pictures in that folder come from a 16 magazine and not from this Spec magazine though) There were a few more pictures with this article that I would like to share today.
J5 ~~Meet their weekend girl friends!
They're the 2 lucky winners of the WOW contest, sponsored by 16 and SPEC. They had such a fabulous time they almost didn't want to go home! Join them now and share their adventure!
Valerie Ryuse of Mount Vernon, Ohio, and Meri Pekarcik of Anaheim, California, both 15, were picked as the lucky winners of 16 and SPEC's J5 WOW Contest out of 5000 entries!

Valerie Ryuse and Meri Pekarcik, thrilled winners of the J5 WOW contest
On Sunday, August 26, Valerie and her mother arrived by plane for their first visit to California – to say they were excited is to put it very mildly! Meri and her older sister Karin, who acted as her chaperone, drove up to Los Angeles from Anaheim (home of Disneyland!), as it took only an hour. Both girls met Jean Lewis, 16's Hollywood editor, at their hotel – and after lunch at a restaurant atop the hotel, with a spectacular view of the whole San Fernando Valley, it was time to go to the Jacksons' house in Encino. As the metal gate swung open, admitting their car to the Jacksons' premises, both girls' emotions were almost uncontrollable though they remained outwardly subdued." The whole air of excitement was almost more than I could stand!" Valerie said.
Latoya, the boys' sister, greeted the girls and led them into the house. Almost immediately Michael bounded into the den, where everyone was admiring the gold records and various awards the Jacksons had received. ("When Michael first came in to meet Valerie and me, I couldn't feel anything but hot blood running through my whole body, including my ears, and I knew I must be blushing all over," said Meri.) Michael immediately "broke the ice" by admiring Meri's bracelet, and asked her, "Hey – is that turquoise or jade?" Randy popped in to say hellos, and the girls were promptly challenged to a game of pool, after they toured the house, recording studio, play room and outdoor area.

Toya shows Valerie and Meri the gold records lining the den.
Valerie knew how to play and actually beat Michael in the first game! ("I'll never know though, if he was just being a gentleman and let me win purposely or whether I slipped one over on him!") When Marlon joined them, Valerie's happiness was complete cos he had always been her favorite Jackson. Soon, the other boys had returned from shopping and greeted Meri and Valerie – Tito, Jermaine and Jackie. DeeDee stopped over to show everyone baby Toriano, who was only a few weeks old at that time.
All too soon, the boys had to dash off to the L.A. Forum for a sound check for the night's concert. Our lucky winners went off to see some Hollywood sights and to change clothes. (It took them days to decide what to wear to meet the J5!)
About the concert that night, at which they were special guests, Valerie says: "It was terrifically exciting to have backstage passes for before the show. The J5 were styled to perfection and for me to be in a position to wish them good luck before they went on was too much! I finally got up nerve enough to present them with a basketball I had bought and hand-decorated with messages for them." Meri, a talented artist, drew some cartoons for the Jacksons – and Michael was especially impressed.
The concert itself was, of course, like all J5 concerts, super-fantastic! Both Meri and Valerie were so proud that they "knew" the boys personally they felt as if their hearts would burst, especially every once in a while when, during a song, one of the Jacksons would smile at them.
On Monday, the winners had lunch with LaToya at a nearby restaurant. The girls all enjoyed chatting, and when lunch was over, they returned to the Jacksons house to drop off Toya – and lucky them! – some of the J5 were around! Valerie almost couldn't beat to say "good-bye" to Marlon, even though she skew she'd see him in a few days at their concert in Columbus, Ohio. "The hardest thing I've had to do in my life so far was saying good-bye," she says. "I had a lump in my throat as big as the very basketball I had given them! How I hated to go!" (She cried in the car riding back to the hotel.) Both Meri and Valerie took lots of pictures, however, to prove to themselves and their friends and family that the visit was a reality – that they really did meet and visit the Jackson 5. Valerie summarized what it meant to be a winner – "Imagine a smalltown girl like me actually having personal contact with stars!" It was a "real dream come true," both Meri and Valerie agreed – and they vowed they'll never, ever forget it either!

Next day, a pause for autographs, as Jackie does the honors while Toya soaks up some sun.
There was one more thing I wanted to add to this blog post. Doesn't a basketball with sweet messages sound familiar?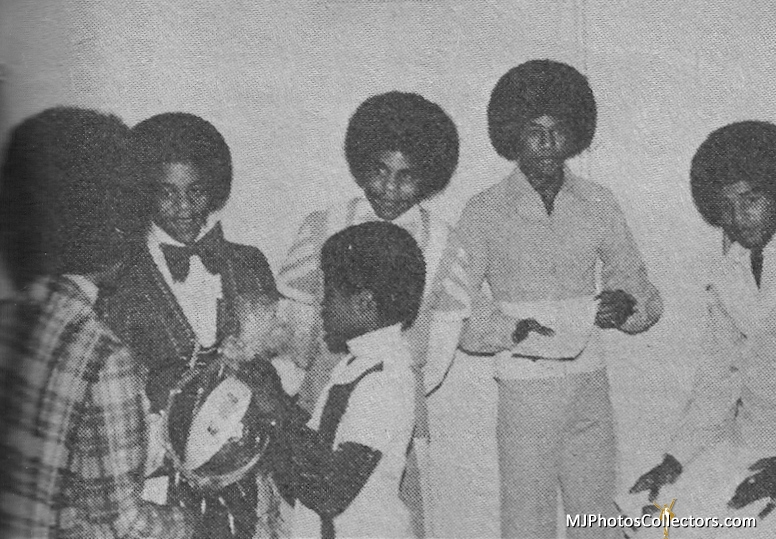 I think I've seen another one like that before although, this time, it's the J5 themselves who put the messages on the ball. I wonder if they got this idea from Valerie