1

J5 Storm Las Vegas!
Posted by
raisa
, 12 April 2013 · 4,555 views
Around this time of the year, in both 1974 and 1975, the J5 were performing at the MGM Grand in Las Vegas, Nevada. In 1974, they performed there from April 9-23 (source
j5collector.com
) and in 1975, they performed there from April 9-18 (source
j5collector.com
).
16 Magazine (August 1974) had an article about their 1974 performances:
J5 Storm Las Vegas!
It's Their Brand-New "Thang" – It's Better 'N Funkier Than Ever – And It Includes LaToya, Randy And Janet Jackson! Be There!
FANTASTIC! OUTASITE! DYNAMITE! THE BLOCK_BUSTER HIT OF THE YEAR!
And that's just some of what the dazed critics were saying after experiencing the
Jackson 5 Revue
as it took sophisticated Las Vegas by storm! It happed last April and for the Jackson 5, it was their Las Vegas debut – of course, they'd played to more exotic audiences the world over (in Africa, Japan and Australia to name a few places!) but playing Las Vegas is somethin' else again! It's the town where only the best and most-established entertainment is featured – often called "Sin City," it's open 24-hours a day for dining, drinking, gambling, marrying, divorcing (or anything else you might want to do!), and people there are usually quite well-to-do and used to seeing dazzling nightclub shows! But no one-not one single Vegas-regular was quite ready for what the Jackson 5 were bringin' – a combination of soul, funk, rock, comedy, fancy-footwork and incredible excitement! What was it like? Well, come along to the brand-new, ultr-glorious MGM Grand Hotel where your front-row table is reserved now!
LADIES AND GENTLEMEN- THE JACKSON FIVE!
As you step into the magical world of the main show room, you behold a spacious, well-designed nightclub filled with people in their dressed-to-the-gills best, seated at small, round tables. Up towards the front of the show room is your table – it's near enough to touch the large, lushly decorated stage! As you ease yourself into your seat, you look around and notice the audience – unlike at most J5 concerts – is made up of people of all ages (from six to sixty!) and colors! Everyone seems excited!
All at once the lights dim and a big, booming voice announces, "Ladies and gentlemen –
The Jackson 5!
" In a split second, the stage fills with smoke-machine effects and you see flashes of orange, pink, purple, green and gold glitter dancing out of the smoke to the smashing sounds of
Skywriter!
The show has begun and you nearly faint at the dizzying spectacular that's taking place before your very eyes! Jermaine –his hair in Grecian curls – is wearing a sexy, olive-green jacket all aglow with sparkles on the lapels. Jackie is similarly dressed, but his colors are shocking pink and rose – Marlon's in sensuous purple, Tito's in flashy gold and Mike's a stunner in orange and gold! Little Randy looks suave-as-he-can-be in deep dark green! With a smile of sheer ectasy on your lips, you clap and cheer along with the rest of the swept-off-its-feet-audience!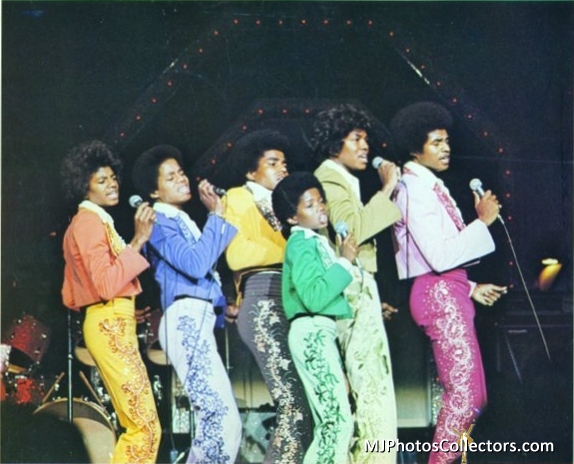 THE JACKSON SIX?
As the applause dies down, Tito steps up to the microphone and introduces the group (as if you didn't know them already!). He tells you that tho they're actually
the Jackson Six
, they can't change their name cos "you can't really count Randy for a whole person!" Everyone laughs – especially when li'l Randy pipes up with "I'm small and even cuter than Michael – that's why he keeps me in the back!"
Next, it's Mike's turn at center stage – he's so close now you can almost reach out and touch him! "Since this is our first time in Las Vegas," he begins, 'we'd like to do something very special – our own medley of musical history!"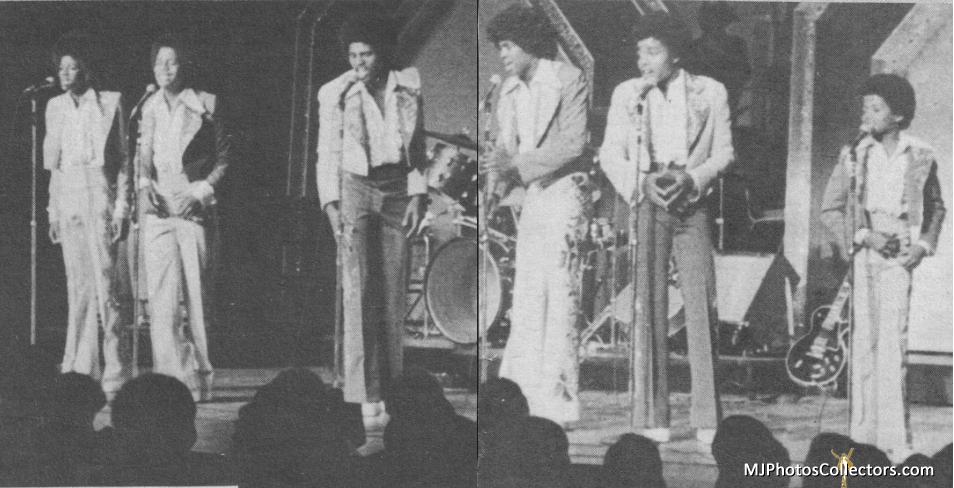 And with that, the J5 swing into their all-new and very different Las Vegas act – first, a bit of barbershop quartet music (with Tito warning the 'barber' – "If you can't do a natural, don't touch it!") Then, the J5 go into memorable mimes of The Mills Brothers, The Four Freshman, The Coasters – and ever girl groups like The Supremes and The Andrew Sisters! What a sight to see!
You're so knocked out by their superbad display of raw, new talent that you're caught completely off-guard as Marlon gets way down into his far-out and funky version of
Poppa Was A Rollin' Stone!
Then, there are solos by each Jackson – Mike does a moving rendition of
Ben
and
Killing Me Softly with Her Song.
And now, for the biggest surprise of the show – the on-stage debut of the female members of the Jackson clan – LaToya and Janet Jackson! As Mike says their names, Toya and Janet dash up from out of the audience – they were seated right behind you! Toya looks super-smashing in her black, spaghetti-strap gown, and Janet's extra-adorable in her yellow crepe halter dress.
(Right On! Magazine, October 1976)
RANDY & JANET
After the girls' introduction, the J5 and Toya exit the stage to change costumes – leaving only Randy and Janet on stage. The two littlest Jacksons begin what was to be the funniest part of the evening – a "play TV" routine where they pretend to be Sonny & Cher! Janet's in all her glory on stage – she really vamps it up just like a pro! It's hard to believe that this is the very same child who's known for being shy with strangers and who cries when her parents are out of eyeshot! At the end of the Sonny & Cher act, someone from the audience hands Janet a toy "Chastity" doll and she and Randy go into a rousing chorus of I Got You Babe! One thing's for sure – talent in the Jackson family is certainly not limited to the male members!
(16 Magazine, August 1974)
TOYA TAP-DANCES!
As Randy and Janet are ending their duet to roars of sheers from the audience, the J5 and Toya suddenly bound back on the stage – all in gleaming white jump-suits over sheer black ruffled shirts, adorned with wide J5 belts round their waists! They all sing and tap-dance in perfect harmony – they are , in a word, magnificent! But it's getting toward the end of the show now and you're feeling just a bit down that it had to end – but wait, there's yet another surprise in store! The mayor of Las Vegas appears on stage from the wings – smiling, he stops the show in order to present the Jackson 5 with the keys to the city! Tha mayor welcomes them and says they add "a new dimension in entertainment to Las Vegas!" With a swell of pride in your throat, you realize that the J5 – once unknowns from Gary, Indiana – have come a long way, baby!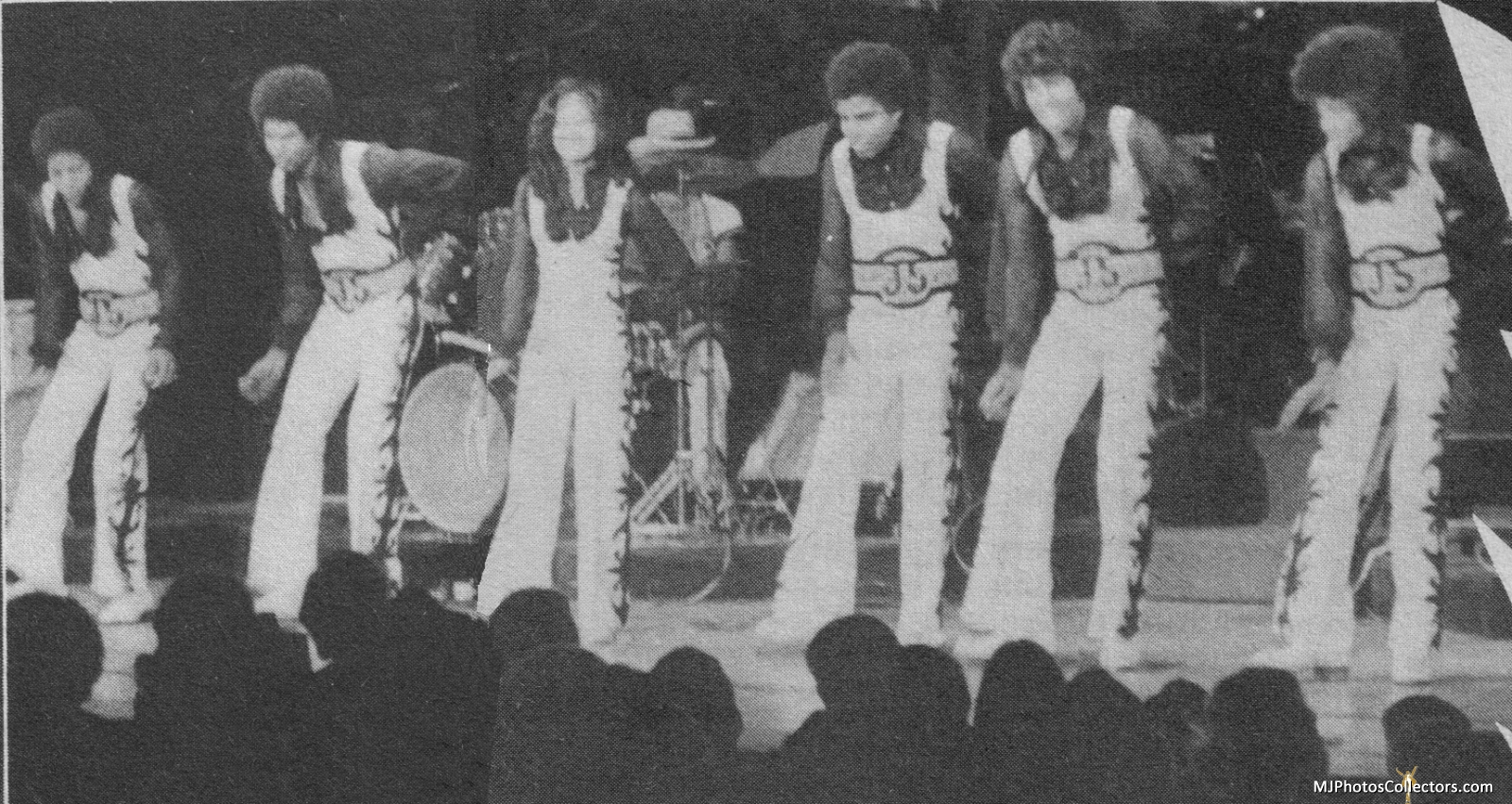 THE GRAND FINALE – YOU JOIN THE SHOW!
And now, it's time for the grandest finale ever – in true J5-style – Mike steps out into the audience and urges everyone to come up on stage and join in the finale! When he gets to your table, he leans over, touches your hand ever so gently and looks into your now teary eyes. You follow him willingly onto the big stage and joyously dance right beside him as the show closes with
Dancing Machine!
It's the closest you've ever been to heaven!
When the J5 hit Vegas it's an event of a lifetime! You – who've known and followed their careers and lives for the past five years, can see them growing, changing, getting sexier, funkier and better as time goes by. You leave the J5 and Las Vegas with a happy heart – cos you know they'll be around you for a long time to come!